11 tips for buying a cowhide
Today you see cowhides more and more often in the interior. No wonder, because they are a wonderful addition to your interior. They bring a unique, warm, cozy and luxurious look. With that you also see the number of suppliers and the choice increasing. There are several stores where you can buy top quality skins but there are even more shops that offer poor or mediocre quality. But how do you know whether you buy a top quality cowhide or one of poor / moderate quality? Often the choice is made based on color and price, although these are important criteria in choosing your new cowhide, it is also important to take other factors into account in your orientation and purchase. What criteria these are and what you should look for, we would like to explain.
Are the cowhides uniquely photographed?
After a long search, have you finally found the cowhide of your dreams? Then of course you would like to receive the one from the picture and not a look-a-like or a completely different one.
Unlike some other online stores, we take pictures of each cowhide separately. In addition, we always make a number of close-ups so you get a good idea of the color and details. Each skin has a unique number. So you know 100% sure that you always get the cowhide of the photo at home.
What size cowhide fits best in your interior?
Would you like to put a cowhide in your living room or bedroom? It is important to look closely at the size. An XL (XXL) cowhide can be up to 265cm long and an XS cowhide is available from approximately 140cm in length. Such a large cowhide can be very beautiful in a medium to large room, but in a smaller space it will not look as good. Questions you can ask yourself for the right size cowhide are: What exactly do I want to do with the cowhide? Am I going to use it as a rug? Do I hang it over the sofa? Or am I going to use it as a wall decoration. Will the fleece be completely exposed? Or can it lie a bit under the sofa or furniture? (This often gives the best effect). Or how big is the table under which you want to put the cowhide?
In order to come to a better choice, we have divided our cowhides into different sizes:
We measure all hides separately and list this size with each cowhide. We measure from neck to buttocks and from left hind leg to right hind leg. Before you order you can use a tape measure to measure the place where you want to use the skin. So you know for sure that the cowhide you like fits well in the space.

Go for a beautiful symmetrical cowhide
A cowhide is a real eye-catcher in your rooms therefore it should, in our opinion, also have a nice symmetrical shape. By having a nice symmetrical shape we know that the tanner paid attention and took the time to make it an extra beautiful specimen. The cowhides are stretched so that there are no folds in them and this one lies nice and flat when used. Then the edges are touched up by hand so that there are no corners or frayed edges. Of course you can also cut or trim the cowhide yourself, but you prefer to put it on the desired spot right away, don't you?
Choose the color that best suits your interior and taste
Cowhides are truly unique natural products therefore they come in many different sizes and colors. The color is one of the aspects that is first considered when looking for the perfect cowhide.
Do you prefer a traditional black and white cowhide or do you want something more exclusive such as a champagne-colored cowhide? To come to the right choice it is good to advance the colors of the room where you want to put the cowhide.
Would you like a striking cowhide and have a slightly darker room? Then a light colored cowhide will definitely stand out. Or maybe you want to keep it more subtle and quiet? Then you can go for a color that is similar to your furniture.
Be open to other colors as well, because sometimes a color you might not have considered right away can surprise you in a positive way and be the perfect color for your interior. We regularly get people visiting us with the idea of a traditional black and white or gray cowhide but then go for a completely different color with a very nice result.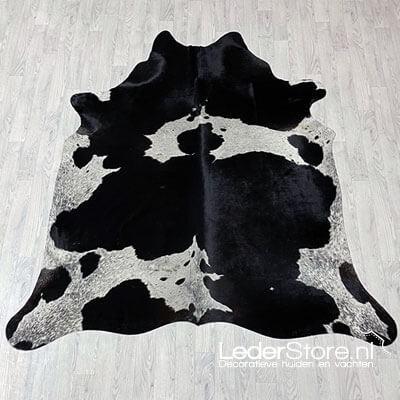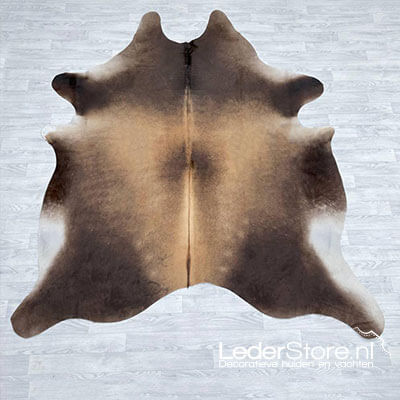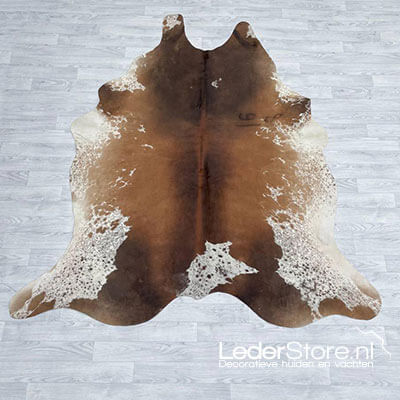 The thickness of the cowhide
When you want to buy a cowhide it is important to go for one that has a good leather thickness. Very thin skins will wear down faster because they can simply handle less load. A cowhide that is too thin can cause various problems such as the edges curling up quickly, which can cause you to trip over it. Curled edges are unfortunately difficult to get flat, the suppleness slowly drains out. But hair loss can also occur more quickly if the hide is used as a rug. Only very cheap cowhides will be thin.
On the other hand, the leather should not be too thick either. If the leather is too thick, the cowhide cannot always be used properly. A too thin cowhide can cause tripping hazards because of curled up edges, a too thick cowhide can cause you to get stuck behind the edge.
So the right thickness of the leather is very important. The leather may not be too thick and not too thin. Usually, high-quality cowhides have a leather thickness of +/- 3 to 4 mm. *The thickness of the leather may vary per breed of cow as well as the place of measurement. For example, leather near the legs / armpit is thinner than in the neck or belly.
Ask or search for the origin of cowhides
The highest quality cowhides come from South America. Specifically from the land of soccer and carnival namely Brazil. The country has over 250 tanneries. Because of the top quality they are often a bit more expensive. Brazil also produces much more elaborate leather for example for shoes, bags, furniture etc.
Our cowhides come from Brazil and can be recognized by the stamp on the back with "Made in Brazil" or "Brazil". That way you know it's a genuine Brazilian cowhide.
Cowhide tanning
Brazil alone has over 250 tanneries but Colombia, Venezuela and Argentina also have quite a few tanneries. Although each tannery strives to preserve leather, there are major differences in the tanning process. You can think of the raw materials used and the time the cowhide gets to absorb the substances. The tanning process takes several days depending on the process used. Cheap cowhides are tanned in a different way and as quickly as possible. Unfortunately, this does not improve the quality. With the naked eye it is very difficult to recognize a good tanning even for the experts. We only work with high quality tanneries to ensure good and continuous high quality.
Determine the budget for your cowhide
After the color, the price is number 2 when buying a cowhide. After all, it has to fit within your budget. Due to the large amount of choice, prices vary greatly. And even with animal skins, cheap is expensive. A high quality cowhide is simply a little more expensive but you will also enjoy it much longer.
We select our hides in advance by size, color, shine, shape, origin and tanning. This way you can be sure that you can always expect a quality hide.
If you would like a smaller cowhide for example an XS then this will fall in a different price range compared to XXL cowhides. XXL cowhides are in fact less common. In addition, a more common color like brown white will also be more affordable than something extra unique like all white or champagne.
To make your choice easy, we have classified our skins by price:
Can you take a look on location?
Also, always check if the provider has a physical address where you can view the skins and furs. Especially if you still have doubts or just want to see them in real-life, a visit can be nice. That way you can experience and judge the quality of the skins yourself. In addition, you can ask the retailer for advice directly.
If you would like to come and take a look at our shop then it is best to contact us by e-mail or telephone. We work by appointment only so that we have time to help you further in your search for the perfect cowhide.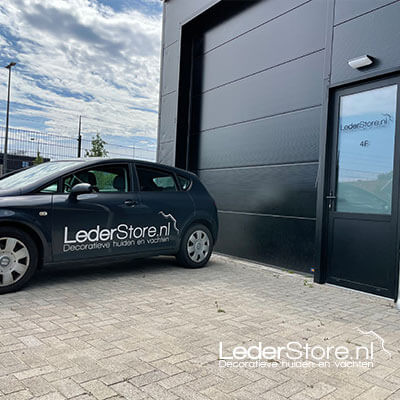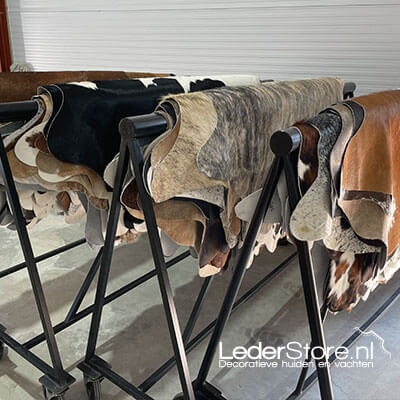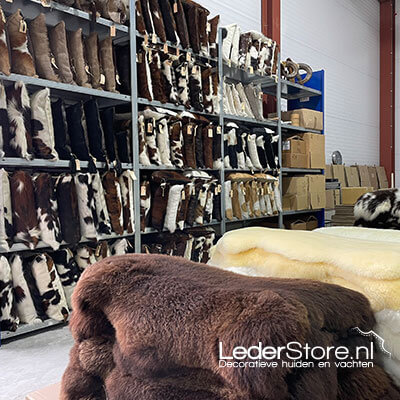 Does the cowhide have patches, stitching or other repairs?
The less patches and stitching the more beautiful the cowhide. However, scars and/or cuts can be caused during the animal's life by such things as barbed wire or the processing process. These are then patched with a patch or stitching on the back so that little or nothing is visible on the front. Sometimes you will also see hides that have a branding. Branding is usually done by the farmer to prevent theft of his cattle. This is not a damage to the hide but an authentic feature. This is a normal display and occurs regularly.
We strive to select for you the cowhides that contain as little stitching or patches as possible. It is of course possible that a cowhide has patches that we overlooked during the selection. If we believe that patches are slightly visible on the front, we always mention this with a close-up. A well repaired spot can last for years without any problems.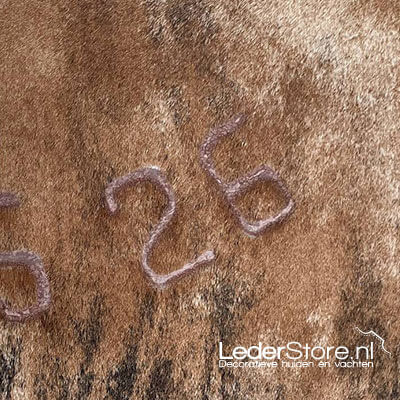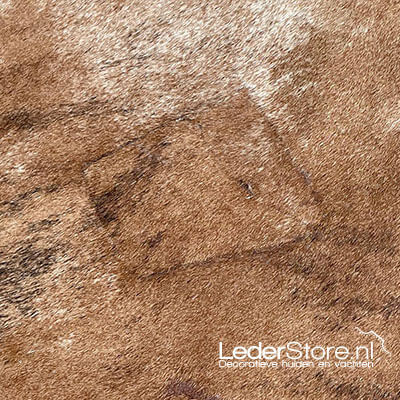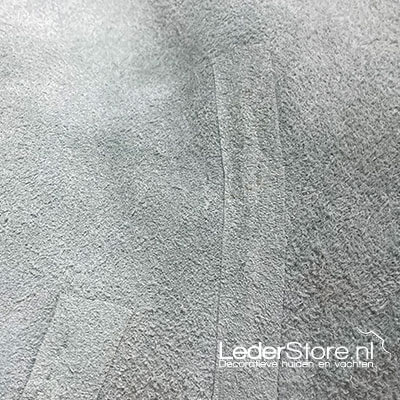 Buy only from retailers with a reputable seal of approval
As you have been able to read, there are many factors to consider. Fortunately, we select on many criteria in advance so you only have to look at what color you would like and what budget you want to spend.
Earlier we mentioned the larger number of providers and cheaper quality cowhides. Therefore, always check whether a provider is affiliated with a quality mark such as WebwinkelKeur or Thuiswinkel waarborg. These parties have strict requirements for quality, rules and legislation and gives you extra security. For example, retailers affiliated with the aforementioned quality marks must always be clear and transparent about the costs, offer a possibility for post-payment, complaints mediation (if necessary) and at least 14 days reflection time (we use 30 days reflection time). In addition, you can also read the reviews that customers have written about the retailer.
With over 620 unique reviews and a 9.7 average, I am secretly proud and grateful that we can offer you so much beauty. =)
Hopefully we have been able to give you a better understanding of what to look for when you want to buy a cowhide. If you have any further questions or are looking for a beautiful cowhide you can always contact us.