Leatheroverstock.com the leather store of Boxmeer, Sambeek and surroundings
With us you will find the finest and softest collection of hides, furs and decorations. We are located at Sint Anthonisweg 4G, 5831 AE in Boxmeer. Easily accessible by car but also by public transport such as train and bus. Whether you are looking for a beautiful cowhide, sheepskin, mini cowhide or fun decorations like cowhide pillows, cowhide coasters or horns. We have them all.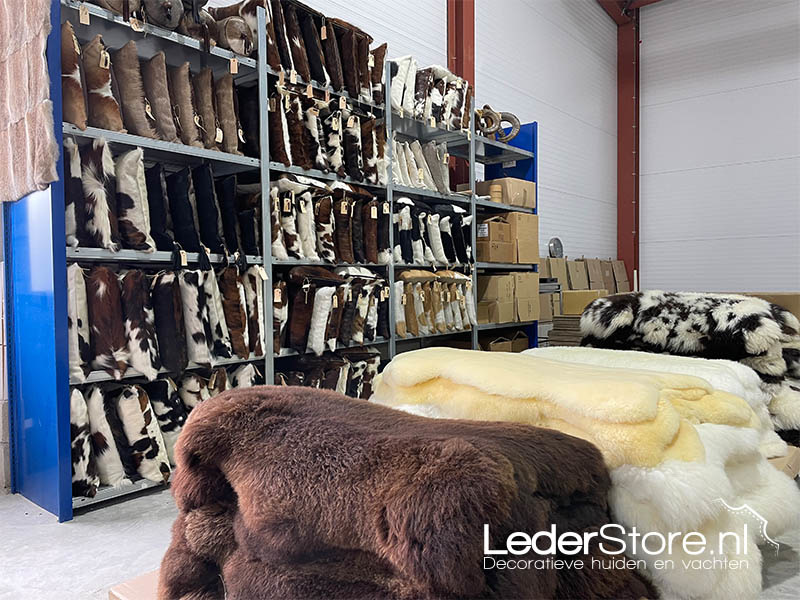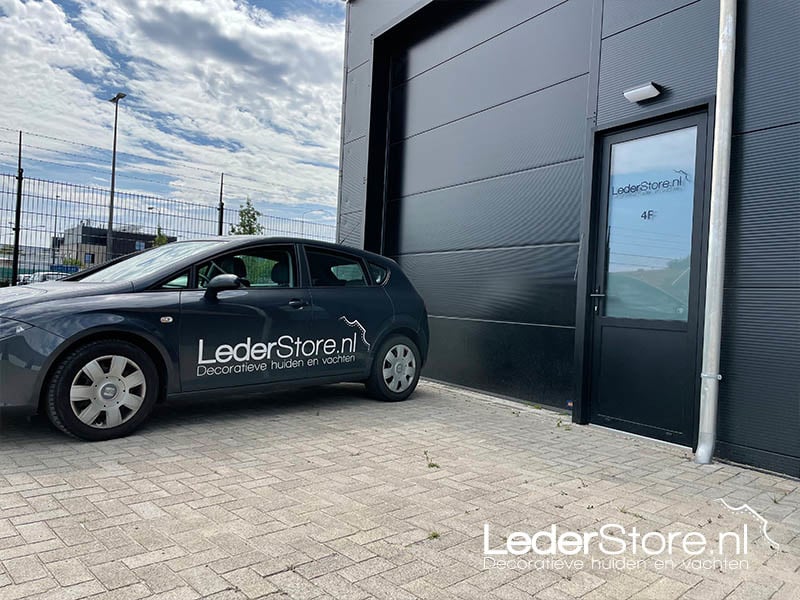 Why choose Leatheroverstock.com?
With over 15 years of experience in hides and furs, we are not just a leather store. As a true specialist we always strive to offer you the finest and softest hides, furs and decorations with the best service. After a long day at work, with the children or after not being at home for a while, there is nothing better than coming home and being able to completely unwind with a beautiful and warm interior.
In addition, you can always expect excellent service from us (rated 9.7 on average), fast delivery, and 30 days of cooling-off time. Read more about why you might choose us here.
A wide range of skins, furs and decorations
With us you will always succeed, whether you are looking for a beautiful cowhide a soft sheepskin, cute cow cushions for the sofa or a set of coasters.
Atmospheric cowhides, large and small in different colors
Our cowhides are some of the finest available. Nice and supple and soft, so you can enjoy them for a long time. In addition, our tanneries ensure that the cowhides are neatly tanned and any odors neutralized. So you can put your cowhide in the desired place and enjoy it immediately.
The cowhides in our collection originate from Brazil, where without a doubt the best cowhides are tanned. The great thing about cowhides is that they are always 100% unique and there is no second one available. They come in many different sizes from XS to XXL. Do you have a smaller room and want to bring extra atmosphere in it than a XS cowhide could fit perfectly. Or maybe you just renovated (or built) your house with an open-floor than an XXL can fill the space nicely.
In addition to the different sizes, there are many different colors available. From traditional black and white to salt & pepper and taupe and everything in between.
View all cowhides here.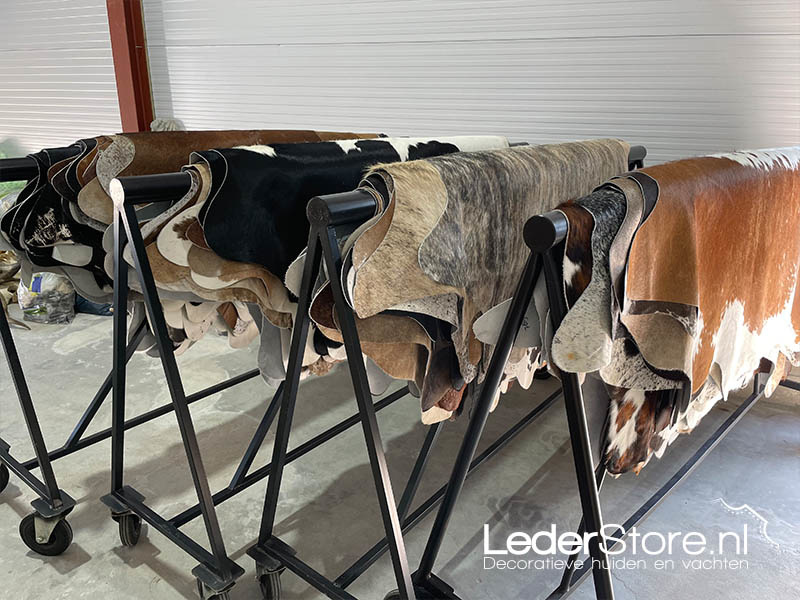 Warm and soft sheepskins for your interior
Are you looking for a soft enrichment for your interior? Then a sheepskin is perfect. Sheepskins add a soft and warm atmosphere to your interior (literally). Our sheepskins go through a unique tanning process, which gives them a beautiful shine and keeps their hair firmly in place.
One of the other features of our premium sheepskins is that they are tanned sustainably. This means that no harmful substances are used that are bad for people and the environment. We even go one step further and can proudly say that our sheepskins carry the Oeko-Tex Standard 100 label. Because of this sustainable tanning and inspection they also have a pleasant smell.
View all sheepskins here.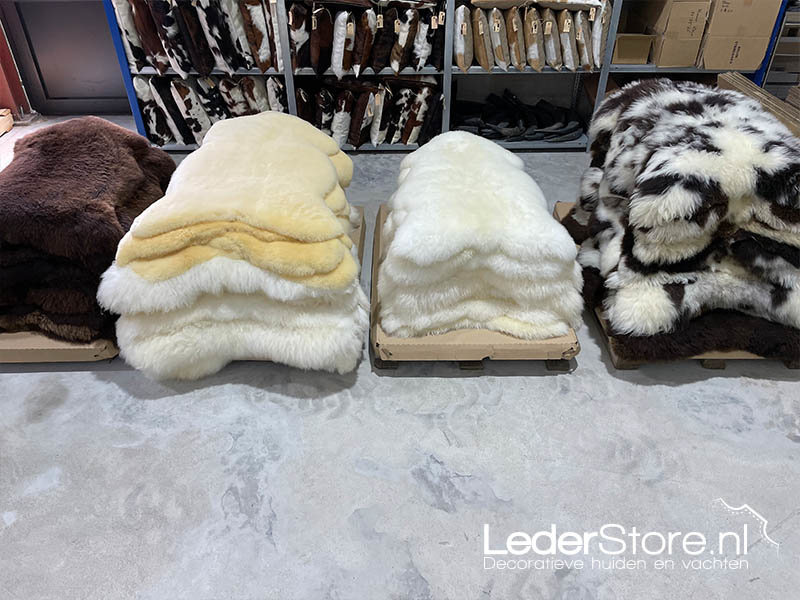 Mini cowhides
With our exclusive mini cowhides, you can show off your style even in the smallest of spaces. It is often thought that the mini cowhides come from calves but that is not true. Sometimes it appears after the tanning of a large cowhide that it has too much damage which makes it unsuitable to use as a beautiful rug. Usually, the good pieces of cowhide are used to make pillows, coasters and other decorations. If the good pieces are large enough, we have them made into mini cowhides. That way nothing goes to waste.
Because of its small size you can use a mini cowhide in many different ways. For example as a rug, but for over the railing of your sofa or put one over your wooden bench or on your closet for decoration.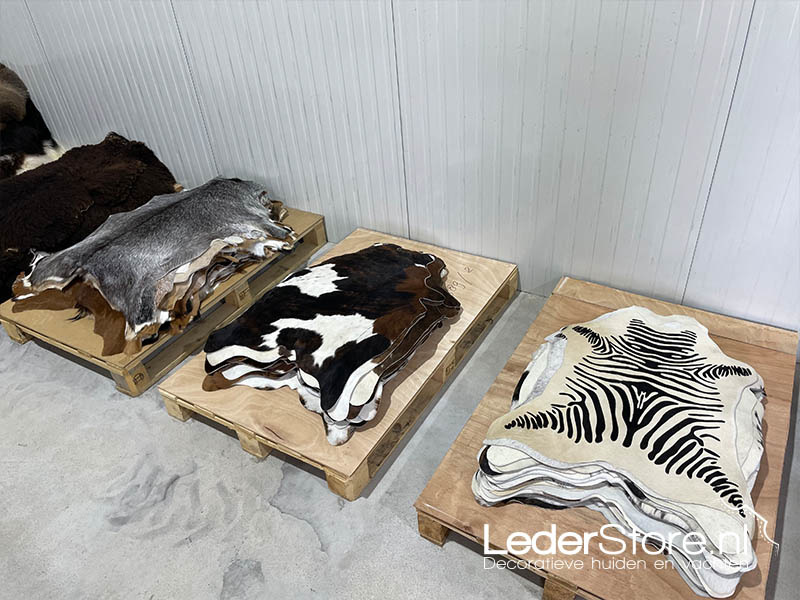 Decorations such as;
In addition to whole hides and skins, we also have a wide variety of animal skin decorations such as cowhide and sheepskin pillows, cowhide and goatskin coasters but also patchwork rugs and cozy cowhide Christmas socks.
Cowhide and sheepskin cushions
Have you just bought a new sofa or chair and it looks a bit empty? Then you can quickly and easily give your sofa and chairs more atmosphere by placing some cowhide cushions and / or sheepskin cushions on it. Like our cowhides, the cushions come in many different natural colors. In addition, you can choose from 40x40cm or 50x50cm cushions. They are made only from the finest pieces of cowhide or sheepskin and are almost always lined on both sides with cowhide or sheepskin.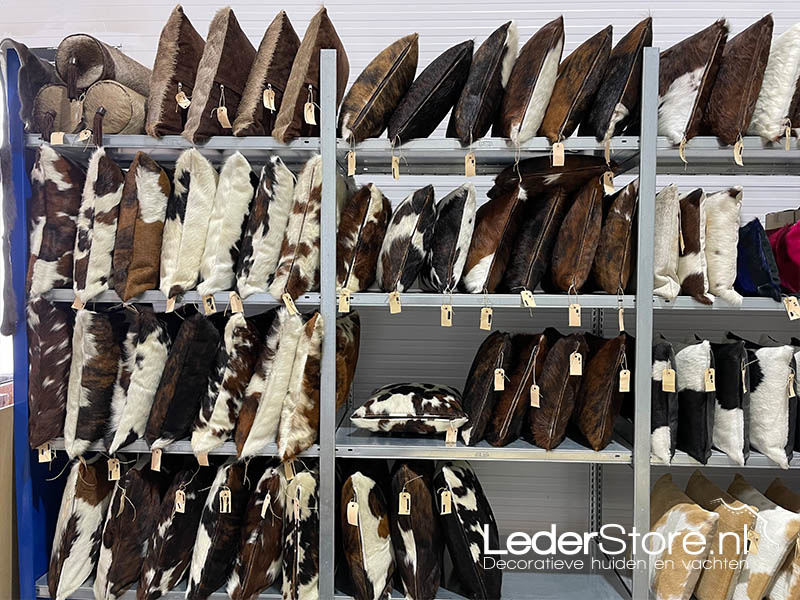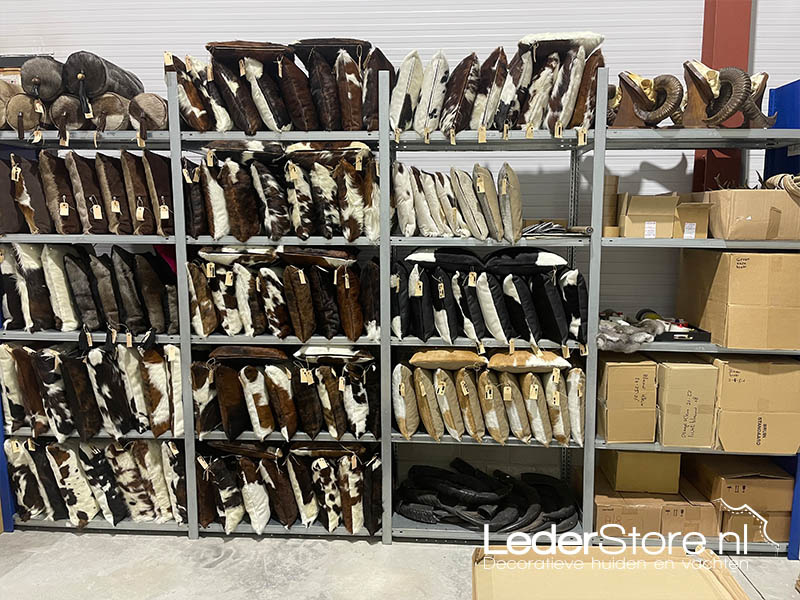 Cowhide coasters
Small round and square mood makers, with our premium coasters you will keep your table free of circles from cups and glasses. Our coasters are stamped from the finest hides so you always have a sleek and flat coaster where your glasses and cups can stand securely on. And to make them extra sturdy and durable we provide our coasters always with a solid black undercoat which also prevents shifting.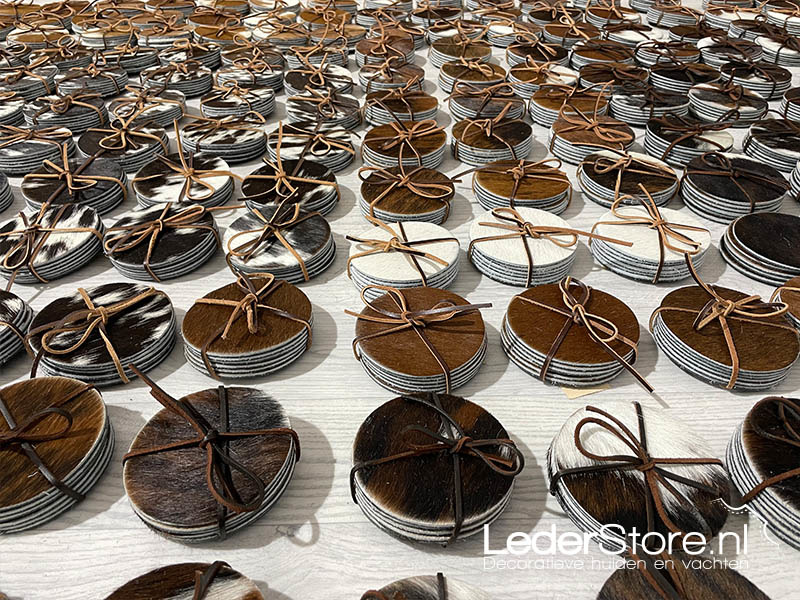 Cowhide Christmas Socks
Do you love Christmas as much as we do? Then you will probably decorate your house every year and preferably with Christmas decorations that no one else has. If the standard red/white socks are boring to you, then you should go for the unique cowhide socks with your own name on them. You can fill the stocking with small stuffers and fillers. This way you can make your Christmas extra special.
Opening hours
Would you like to further decorate your interior and bring nature into your home? Then you will certainly find something nice during our opening hours. We only work by appointment, so we can pick the desired skin, fur or decoration and inform you about it. To make an appointment you can call us during opening hours or send us an email.
Route and location of our leather store
Our office is located in the heart of Boxmeer a village located in the eastern part of North Brabant at address: Sint Anthonisweg 4G, 5831 AE, Boxmeer. We are very accessible by car and public transport.
Accessibility by car
Our location is just under 5 minutes where the A73 and A77 freeways intersect. If you come from Nijmegen or Venlo it will take you about 30 minutes to get to Boxmeer via the A73. Coming from Eindhoven it's about a 45 minute drive. Do you live in Goch, Germany? Then you can get there within 15 minutes via the A77.
Accessibility by train
Are you coming from Nijmegen or Venlo? Then we are also easy to reach by train. There is a train station at 5 to 10 minutes walking distance from our location. Both from Nijmegen (central station) and Venlo you can reach Boxmeer within 30 minutes by train.
Parking
The property is located in a business park where there is ample parking right outside the door. You can park there for free (no maximum time).
Via public transport
Would you like to visit by public transport? That is also possible. At the Boxmeer train station there are several buses. From the station it is a short 5 to 10 minute walk.
Availability of our skins, furs and accessories
Have you found the skin, fur or decoration of your choice but first you want to come and see it on location? That is also possible. It is best to call or email us in advance so we can schedule an appointment. What we have online is also all on location.