11 tips for buying a sheepskin
You see them more and more in the interior, sheepskins. Often seen in the living room, bedroom or lovely in the lounge set. No wonder because a sheepskin brings a unique, soft and above all warm and cozy atmosphere with it. They are also one of our own favorites as an addition to your interior.
Partly due to the popularity of sheepskins, the number of suppliers and the choice increases. At several (online) stores you can buy beautiful furs but the range of mediocre to poor quality sheep furs is unfortunately much larger. But how do you know if you are buying a top quality sheepskin or one of poor quality? Online the choice is often based on color and price but there are of course many more criteria to consider when buying your new sheep. We would like to explain to you which criteria these are and what you should (can) pay attention to.
In this blog:
Are the sheepskins uniquely photographed?
After a long search, have you finally found the sheepskin of your dreams? Then of course you want to receive the sheepskin from the photo and not a look-a-like or a completely different fleece.
To help you in your search we take unique photos of all our sheepskins and give them a unique number. This way you know that you will always receive the fleece from the photo. Some online providers offer sheepskins with 1 or 2 photos and the chances are very high that you will get a look-a-like that is slightly different in color and size.
A real or fake sheepskin?
Today we see them more and more, the fake sheepskins. For some people a perfect solution where others prefer a real one. Both fake and real sheepskins have their pros and cons. If you would like to have a real fleece for your interior it is important that you can distinguish the real from the fake. Fake sheepskins can be easily recognized by their color, shape, (wool) thickness and price. They are made in bulk so you can compare them 1-on-1. In addition, fake sheepskins are made from various types of plastic such as acrylic and polyester. Real sheepskins are all completely unique in color and shape.
See below the difference between a real brown sheepskin and a fake brown sheepskin.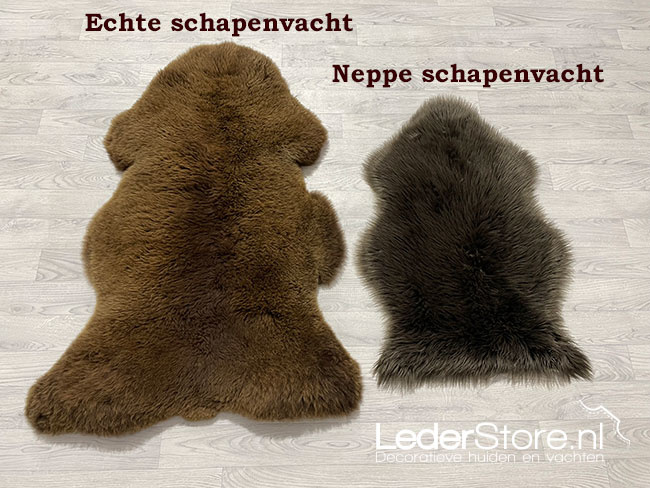 What size sheepskin can you go for in your interior?
Sheepskins are real natural products and come in many different sizes, from large to small. If you would like to use a sheepskin in your living room or bedroom, it is good to first look at where you would like to use it and then at the size.
In our collection you can find fleeces from small to large. The largest sheepskins can be up to 150cm long! (Unfortunately, we can't get much bigger than that) These XXL sheepskins are ideal for on the couch or as a rug. The smallest sheepskins are from about 60 to 70 cm in length.
To determine the right size fleece, you can ask yourself several questions such as:
What do I want to do with the sheepskin? Am I going to use it as a feed rug, or to snuggle up in a chair? Or am I going to use the fleece as a rug for my dog or lace?
To help you choose, we have divided our sheepskins into different sizes:
We measure all our coats separately (including the wool) and the size is mentioned with the coat in question. We measure from neck to ass and from left hind leg to right hind leg. If there is a tail we also mention the length of the tail. Before ordering, you can use the tape measure at home to measure the desired location to see if the sheepskin will fit. This way you can be 100% sure that the sheepskin will fit in the desired location.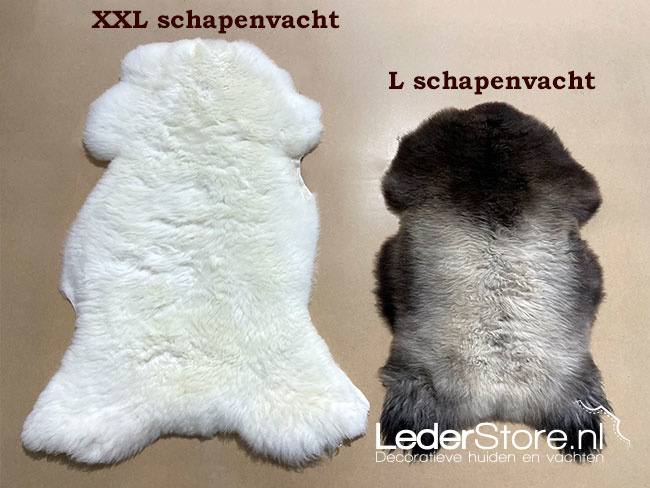 Go for a nice symmetrical sheepskin
The most beautiful sheepskins are symmetrical sheepskins. They are real eye-catchers in your interior, so they should also be nicely shaped. We always ask our tanners if they can give the sheepskins a nice shape. The sheepskins are stretched so that no folds appear and the fleece can lie nice and flat on the floor. After that the fleece is shaped by cutting the edges. This way you will not have any protruding corners or fraying.
Choosing the color of your new sheepskin
The sheepskins come in many different colors. The nice thing about sheepskins is that they are a real natural product and therefore no two skins are the same, so you always have a coat that no one else has. The color is one of the first aspects you consider when looking for the ideal sheepskin.
Want to keep it a little more traditional? Then you can go for a white or brown sheepskin. Would you like the coat to stand out even more? Then you can also go for a colorful fleece, or even more special, an Icelandic fleece. To be able to make the best choice it is good to look beforehand where you would like to use the fleece. Do you want to put it on the floor as a rug? Then a darker color is more practical. Do you want to put one on the couch or in the chair? Then you can also go for a lighter sheepskin.
Do you have many light colors in your interior? For example, a sleek modern interior with lots of black and white than a brown or gray Icelandic coat beautiful. Do you have a more rural interior with more wood and brown tones? Then a white or variegated coat is beautiful again.
Would you like to keep it a bit more subtle in your interior? Then go for a sheepskin with a soft color that has similar colors to the rest of your interior.
Be open to other colors as well, because sometimes a color you might not have considered right away can surprise you in a positive way and be the perfect color for your interior. We regularly get people visiting us with the idea of a traditional white or gray sheepskin but then go for a completely different color with a very nice result.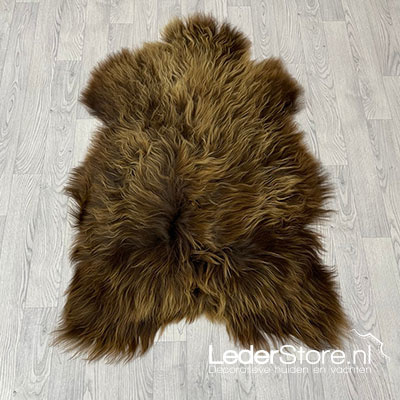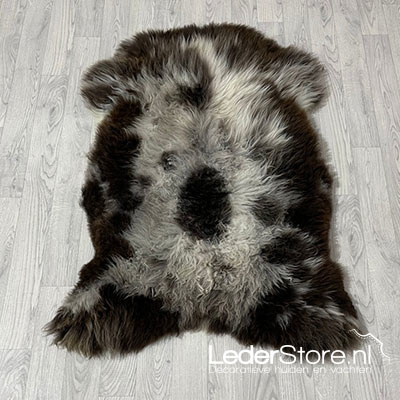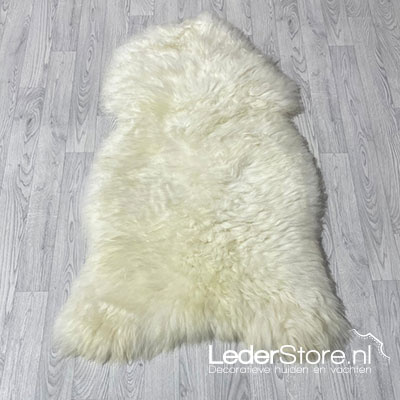 Do you go for a sheepskin with long hair, short, or just with a nice curl?
Did you know that there are more than 900 different sheep breeds? Each breed of sheep has its own unique characteristics. The wool and hair also differ from one sheep to another.
In the case of the well-known Dutch sheep breed, the Texel, for example, the sheepskin comes in white or brown. Typical for the wool of this sheep is that it is shorter and more compact. Sheepskins with a shorter and more compact wool are mostly used for the chair or on the couch to snuggle up against.
Other commonly seen coats are the Icelandic sheep coats. These furs are known for their beautiful colors, from traditional white to black but also gray and brown. Typical of the Icelander coats are the soft long beautiful hairs. The wool of the Icelander is thinner and less compact than that of the Texel. This makes them perfect for decorating. For example, on the chair or table but you can also sit on it.
Do you want something really special? Then you can also find sheepskins with naturally curled wool such as the Tibetan sheepskins or really unique Gotland sheepskins. These fleeces are more suitable for decoration.
So before you buy a sheepskin, it is important to consider what you would like to use it for. Do you want to use it to sit on? Then a fleece with a thicker and more compact wool will be perfect. Would you rather have a coat for decorating? Then you can go for an Icelandic lambskin, Tibetan lambskin or a Gotland coat, among others.
The right thickness of the wool
With a large variety of colors and wool types, the sheepskins also vary in wool. One breed of sheep has a thick, compact wool, while another has a fine, soft but thinner wool. The sheepskins with a thicker, more compact wool are more suitable for sitting or lying on. A thicker sheepskin is also nicer for your pet such as a dog or cat. If you want to use a sheepskin purely for decoration, the thickness of the wool is not that important.
The tanning of sheepskin
The tanning of sheepskins is a labor-intensive and traditional process. We do not do the tanning ourselves but work closely with the best tanneries in order to be able to offer the most beautiful and softest sheepskins. Although each tannery strives to preserve the leather, there are great differences in the methods of tanning. Think for example about the tanning agents used by the tanner but also the time the leather gets to absorb these tanning agents.
The tanning process of a good sheepskin takes several days. There cheap fleeces are tanned as quickly as possible which does not benefit the leather and wool. With the naked eye this is very difficult to recognize even for the experts among us.
There are a few points by which you can recognize poor to moderate sheepskin tanning. Smell, sheepskins have a typical buck (farm) smell. If the sheepskin has not been washed properly, it will have a strong farmhouse odor. Experience tells us that this odor will not go away, even if the coat is left to air outside. Even if you let the fleece air outside. Always check if the retailer has a cooling-off period so you can return the coat. We use a reflection period of 30 days.
Finishing the sheepskin. A sheepskin should have completely clean leather. Free of fat, meat or other residues. Because you really don't want to have a fleece like that in your home. But also the look-and-feel of the wool is an important aspect. After tanning a coat may contain loose tufts of wool or tangles. These have to be removed.
There is also the suppleness of the leather. If the coat is not treated with the proper tanning agents then you will feel this in the leather. The leather can be hard or stiff or if the fleece is tanned without ecological substances or in the worst case you can get itchy or skin rash from it. That is why we only have ecologically tanned sheepskin.
Ecologically tanned sheepskins
An important point, at least in our opinion, is that the sheepskins are tanned ecologically. This means that no harmful substances have been used that are harmful to humans and the environment, such as chromium, heavy metals and harmful dyes.
We even go a step further and can proudly say that the sheepskins we have can carry the Oeko-Tex Standard 100 label.
Determine the budget for your new sheepskin
After color, people often look at the price of the sheepskin. After color, this is the second most important criteria point when buying your new sheepskin. After all, the fleece has to fit within your budget. Due to the large amount of choice you will undoubtedly come across very cheap to very expensive fleeces, ranging from a few tens to hundreds of euros per fleece. It is important to keep in mind that also for sheepskins cheap is expensive. High quality sheepskins may be a bit more expensive but they also last longer so you can enjoy them for longer.
We select our sheepskins on color, size, shape and ecological tanning. Therefore you can always expect high quality sheepskins from us.
To make your search for the perfect sheepskin easy, we have categorized our skins by price:
Does the sheepskin have any repairs? Such as patches, stitching or sutures
The most beautiful coats are those without stitching, patches and repairs. However, it may occasionally happen that a coat has stitching or repairs. This may be because the animal has walked along barbed wire or during the processing of the coat.
So the fewer spots the coat has the better the quality of the leather. The nice thing about sheepskins is that you don't see or notice any repairs on the front because of the nice thick wool. We always ask our tanneries to pay extra attention to this.
Can you view the sheepskins on location?
Would you like to buy a sheepskin? Always check if the supplier has a physical address where you can look at the sheepskins. If you have any doubts or if you just want to look at the sheepskins in real life, that's a good thing. This way you can experience the quality of the fleece and ask the retailer for advice.
If you would like to come and have a look, the best way is to contact us by e-mail or telephone. We only work by appointment so we can take our time to help you in your search for the perfect sheepskin.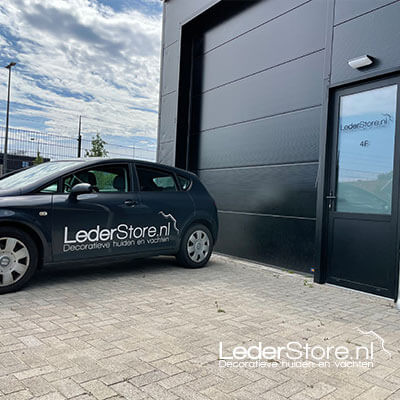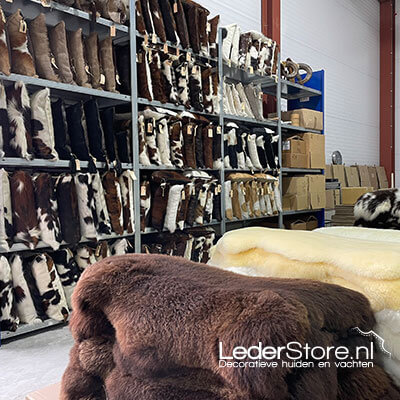 Buy only from retailers with a reputable seal of approval
So there are many points to consider when buying your new sheepskin. Fortunately, we select the most beautiful sheepskins in advance, partly based on the above criteria. This means you only have to choose the most beautiful color and the budget you want to spend.
Earlier we talked about the large differences in quality and tanning. Therefore, always look carefully whether the retailer is affiliated with a guarantee such as Webwinkelkeur or Thuiswinkel waarborg. These parties set strict requirements for quality, rules and legislation and actively enforce them so retailers are always up-to-date. The retailers who are affiliated with a quality mark must also always be clear and transparent about the costs, offer a possibility for post-payment but also complaints mediation (if necessary) and at least 14 days reflection time. (we have a reflection period of over 30 days). In addition, the brands often offer a review option so you can read independent reviews from previous customers.
With over 700 unique reviews and a 9.7 average, I am secretly proud and grateful that we can offer you so much beauty. =)
Hopefully after reading the tips you have a better understanding of what you can look for when you want to buy a new sheepskin. If you have any questions or are looking for a beautiful fleece you can always contact us or have a look at our collection.